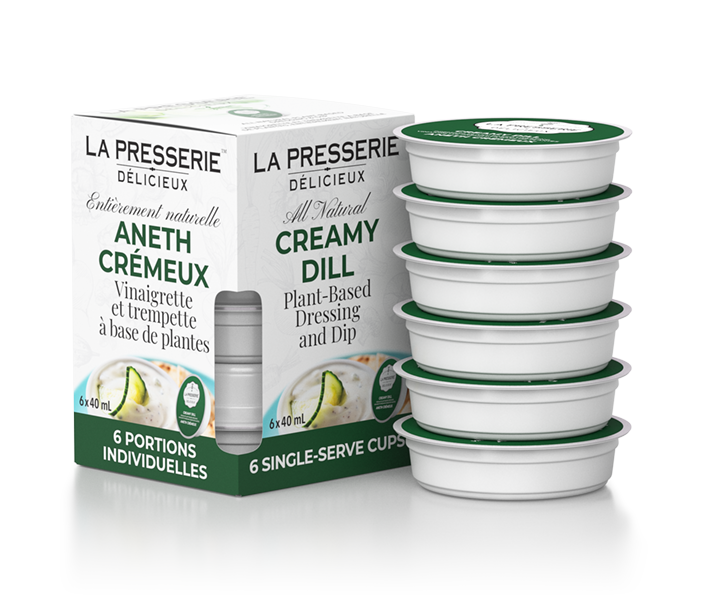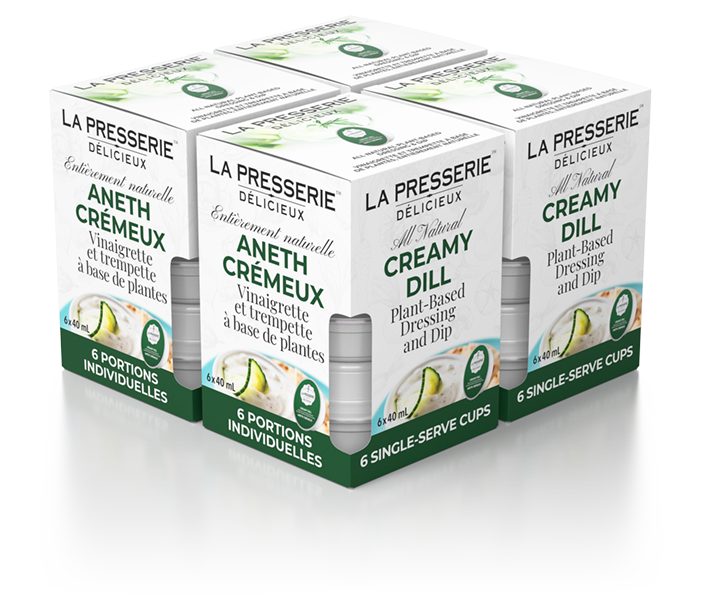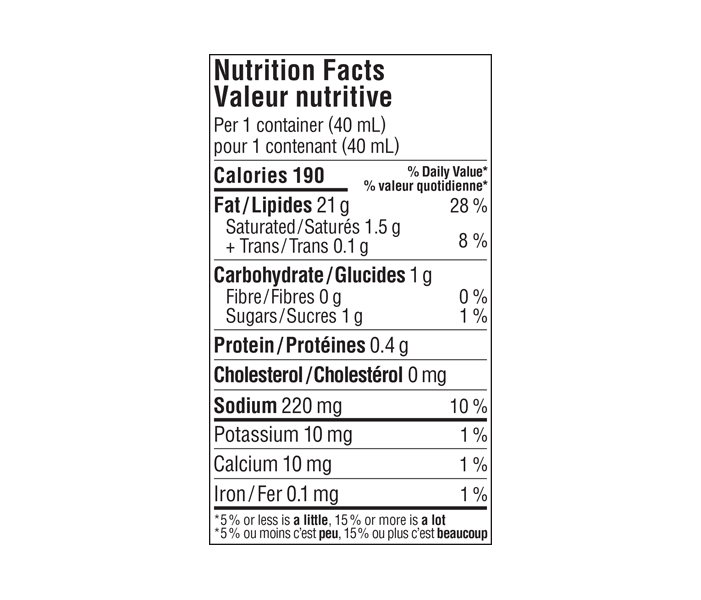 Creamy Dill Dressing & Dip (Single Serve Cups - 4 Boxes x 6 single serve cups)
SHELF LIFE
120 days refrigerated

SIZE
Order contains four (4) boxes
Box: 6 x 40mL single-serve cups
Order includes four (4) boxes.  Each box includes six (6) Single-Serve Cups. 
INCREDIBLY DELICIOUS. EFFORTLESSY VERSATILE. 
La Presserie Plant-Based Creamy Dill dressing & dip with Fresh Herbs is not only great on salads but can be used as a dipping sauce for veggies, roasted potatoes, in sandwiches, as a sauce for chicken or baked salmon. All-natural, made with with our home made vegan mayo and fresh herbs, cold-pressed lemon juice, it's dairy-free, egg-free and crafted with non-GMO canola oil. It's a healthier and more delicious alternative to traditional dressings.
INGREDIENTS
Non-GMO canola oil, Water, Onions, Vinegar, Sugars (agave syrup), Dill pickles (cucumbers, water, vinegar, sugar, salt, dill, garlic, mustard, seasonings, spices), Dill, Pink Himalayan salt, Non-GMO soy protein isolate, Cold pressed lemon juice, Xanthan gum.
Contains: Mustard, Soy
SHELF LIFE
120 days refrigerated
SIZE 
Order contains four (4) boxes
Box: 6 x 40mL single-serve cups
Non-GMO canola oil, Water, Onions, Vinegar, Sugars (agave syrup), Dill pickles (cucumbers, water, vinegar, sugar, salt, dill, garlic, mustard, seasonings, spices), Dill, Pink Himalayan salt, Non-GMO soy protein isolate, Cold pressed lemon juice, Xanthan gum.

Contains: Mustard, Soy