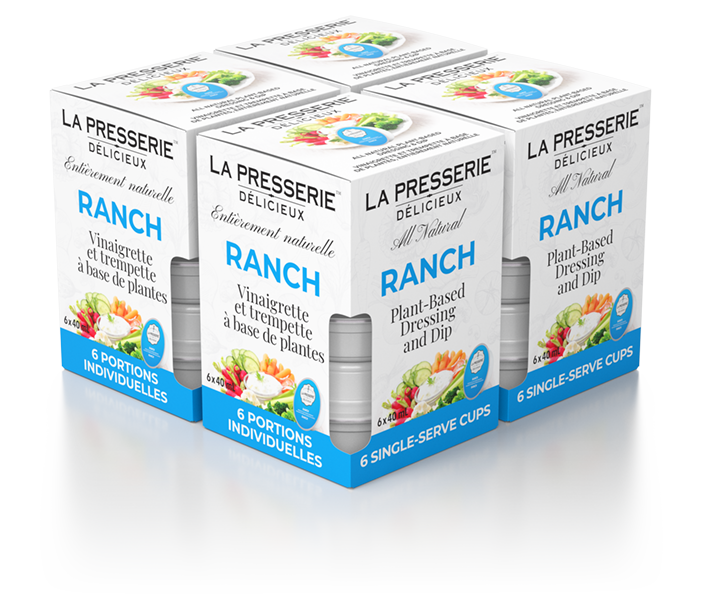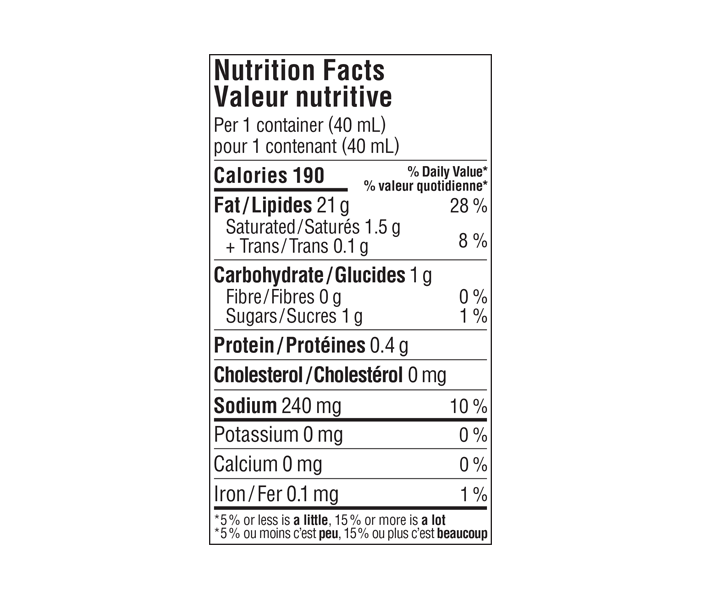 Ranch Dip (Single Serve Cups - 4 boxes x 6 cups)
SHELF LIFE
120 days refrigerated

SIZE
Contains four (4) boxes
Box: 6 x 40mL single-serve cups
Order includes four (4) boxes.  Each box includes six (6) Single-Serve Cups. 
DELICIOUSLY INDULGENT
Ranch fans rejoice! La Presserie Plant-Based Ranch dressing & dip is here. Made with fresh ingredients like parsley and cold pressed lemon, as well as our incredible vegan egg-free home made mayo, it's so deliciously flavourful and delectable, it's sure to become everyone's favourite. Elevate your sandwiches, drizzle over roasted corn or potatoes, pour over vegan chilly; everything tastes better. And when you hit the grill and dress up your veggie skewers, your creation will be so enticing and luscious, a book and TV deal are both sure to follow. This dressing is that delicious!
INGREDIENTS
Non-GMO canola oil, Water, Sugars (agave syrup), Vinegar, Pink Himalayan salt, Non-GMO soy protein isolate, Garlic, Parsley, Cold pressed lemon juice, Spices, Xanthan gum.

Contains: Mustard, Soy

SHELF LIFE
120 days refrigerated
SIZE 
Contains four (4) boxes
Box: 6 x 40mL single-serve cups
Non-GMO canola oil, Water, Sugars (agave syrup), Vinegar, Pink Himalayan salt, Non-GMO soy protein isolate, Garlic, Parsley, Cold pressed lemon juice, Spices, Xanthan gum.

Contains: Mustard, Soy